LONDON, UK / ACN Newswire via SeaPRwire.com / September 27, 2023 / In the age of early mass dissemination of accessible AI solutions, many specialists and researchers from different scientific, technical and academic fields claim that AI has not yet gone far enough. According to a recent Editorial published in Nature, several research fields which need accurate and accessible data won't achieve their full potential until they integrate adequate machine-learning systems.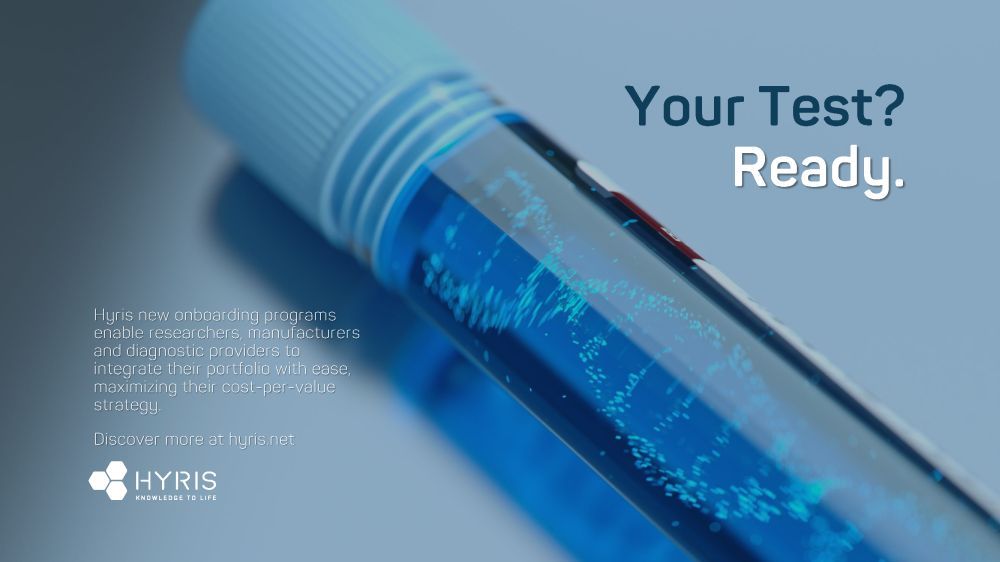 Hyris Onboarding Programs With Hyris both established and emerging test developers can optimize their go-to-market by leveraging the power of AI.
Even if AI tools promise a disruption in the way researchers seek and synthesize useful new substances and tests, we are far from a wholesale revolution yet, also because of the lack of data available to feed centralized AI systems. This poses several challenges to researchers and kit developers in designing and delivering new testing solutions.
Hyris keeps true to its vision, to democratize genetics and health insights, marking a new stage in its partnership policies with newfangled onboarding programs specifically designed to further support researchers and kit developers at every stage.
"Genetic test developing and onboarding has always been faced with inherent challenges, from resource staffing to competence integration, from research funding to ensuring adequate testing volumes," states Angelica Baccanelli, Head of Quality & Regulation at Hyris. "Adapting to variability in the compliance environment, applying requirements to molecular assays, and developing the proper documentation for the go-to-market can all pose additional risks."
Amongst many challenges, technological access gaps are still the greatest hindrance to the development of new solutions across different industries. Hyris stands to change this for the better, by leveraging the AI capabilities of its unique genetic testing platform, renowned worldwide for its AI capabilities together with its unique features of portability, accessibility and versatility.
"Researchers and kit developers know well how hard delivering new analytical solutions can be," continues Baccanelli. "That's why we increased our commitment to support both emerging players and established manufacturers performing beyond their current analytical capability via new onboarding programs." Baccanelli goes on, depicting the advantages of such an inclusive approach. "We provide access to our technology and support developers through various stages of the development of new tests via proper education and technical assistance. This win-win approach enables any player to quickly integrate their portfolio with new products and solutions, maximizing their cost per value strategy."
Hyris's Onboarding strategy is proving successful across many industries. Such is the case of Luminis, Water Technologies, a leader in microbiome profiling and treatment solutions, which embraced Hyris' Program to bring on-site qPCR diagnostics to the aquaculture industry, enabling customers to quickly and accurately test for pathogens, viruses, and bacteria, ultimately improving their operations' overall safety and productivity in such industry. Luminis adopted the Hyris system to develop new qPCR diagnostics kits, enabling its customers to perform genetic analysis on-site rather than sending samples to a lab, significantly reducing turnaround time and allowing for more informed decision-making. Additionally, on-site testing eliminates the need for expensive lab equipment, and operators can now perform testing with minimal training.
"The benefits of on-site qPCR diagnostics are numerous," explains Lorenzo Colombo, CTO at Hyris, "ensuring faster turnaround time and reduced costs, compared to centralized diagnostic systems. On the other hand, the downsides of such an approach have been the lack of accuracy and the complexity of on-site technologies, making this approach less suitable for day-to-day operations until now. We fixed all these problems, providing highly accurate results whilst requiring minimal training to operate. Hyris can really be used in any setting, even under the harshest conditions."
Hyris' distributed technology allows the identification of new and arising needs, even from decentralized areas: this, in turn, enables the design and deployment of fitting solutions at a very early stage of any diagnostic trend, throughout various diverse use cases. Kit developers and lab specialists can now truly collaborate, tapping into different levels of data analysis in real-time to bring innovative tests with superior quality and increased fitness to market; dressing on the cake, all the more quickly and efficiently.
"Too often, centralized diagnostic paradigms risk overlooking local needs, preventing benefits from being shared equitably," sums up Stefano Lo Priore, co-founder and CEO at Hyris. "This also poses an ethical question, as innovations often fail to benefit those who need them most. Reliable portable diagnostic systems are key to building new capabilities for established and emerging diagnostic service providers. By helping others to deliver their solutions, we also fulfil our mission, generating a much wider impact worldwide."
The new Onboarding Programs are contributing to making Hyris the first choice for testing labs, test developers, and researchers looking to bring on specific tests involving smaller sample arrays, reduced time to results, and increased efficiencies and profitability.
To discover how to perform beyond your current diagnostic capability, feel free to contact a Hyris expert at info@hyris.net.
Contact Information
Gabriele Salaris, Global Experience Manager, gabriele.salaris@hyris.net +39 345 555 3379
Copyright 2023 ACN Newswire via SeaPRwire.com.